In this section, we propose ways in which NICUs may continue to foster the principles of FICare, evolve and expand programs and seek ways to improve.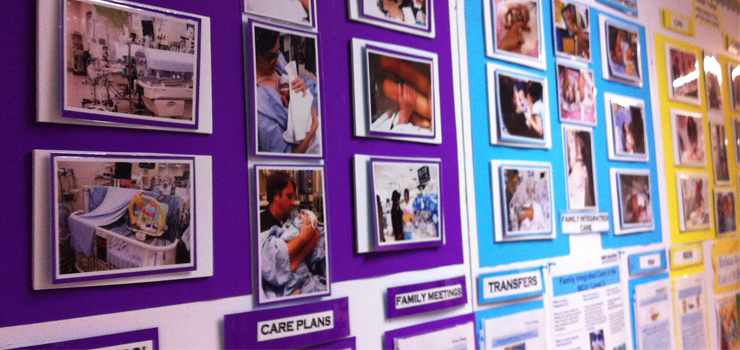 Importance of Sustaining FICare
When the integration of families into the NICU team becomes the norm, then we know FICare has been sustained. Not only have the unit policies and procedures changed to promote the integration of parents, but the thinking and attitude in the unit, such as recognizing the importance of families in the care of their infants, has changed. The changes have been integrated into everyday practice and culture of the unit, rather than being seen as a special project.
As nursing staff play a fundamental role in supporting parents in this model of care, every effort should be made to support their needs within the changed processes.
Teams can often become frustrated if they experience the "improvement evaporation effect" or lack of sustainability. This evaporation effect occurs when a team has worked very hard at implementing an improvement only to find that they cannot retain the improvements that they have made. Provided below are some suggestions that help sustain the change. We also provide links to other resources that might be helpful to your team including the "sustainability model" developed by the National Health Service (NHS).
Suggestions for Sustaining FICare
Engagement of others:
Ensure support from clinical and administrative leadership
Provide ongoing education to staff about FICare/orientation of new staff, etc.
Provide ongoing opportunities for staff to be involved in the evaluation of the processes in your unit and changes that might need to be implemented
Communication:
Have families present on the impact of FICare for them
Share data on outcomes of FICare research
Develop and distribute a FICare newsletter including staff and family stories
Have staff present at conferences how they have supported FICare and how it impacted them
Formalize and standardize the changes:
Establish new family orientation procedures to the unit that promote parent engagement
Ensure that the procedures for rounds support parents being involved
Make family education sessions a priority for all staff and families
Training:
Identify trainers/champions to continue training other staff
Develop wall charts, cue cards to remind people of FICare practices
Use parent rounding guide to support families presenting on rounds
Measurement:
Develop and track indicators of FICare, for example:

the number of parents presenting on rounds
the number of white communication boards completed
the number of parents attending education sessions
Sustainability beyond:
Celebrate and communicate the continued success of FICare (newsletters, posters, patient stories, special events) especially among nursing staff
Support continued veteran parent involvement in staff education (in-service training, lunch-and-learn sessions, new staff orientation)
Post results of the indicators in the staff lounge or NICU
Promote FICare for parents (posters, family meetings)
Create events to support skin-to-skin care e.g. Kangaroo-a-thon
See some examples. Click to enlarge:
Additional Resources
There are many additional resources that can help your team effectively plan, implement and sustain improvement initiatives.
Some examples are: 
Institute for Healthcare Improvement. (2011).
How to Guide: Deploy Rapid Response Teams. Retrieved May 2013 from
www.ihi.org/knowledge/Pages/Tools/HowtoGuideDeployRapidResponseTeams.aspx
McGrath, K.M., Bennett, D.M., et al. (2008). Implementing and sustaining transformational change in health care: lessons learnt about clinical process redesign. Med J; 188 (6): 32.
Maher, L., Gustafson, D., & Evans, A., (2010). NHS Institute for Innovation & Improvement. Sustainability Model & Guide.
Implementing and Sustaining Changes  Health Quality Ontario