When we suggest you keep records in the NICU, we are not just talking about medical data, although many parents do keep careful track of every gram gained, diaper weighed and procedure performed. It can be very helpful for you to keep your own notes, including questions you'd like to ask and information you need to share with your baby's medical team.
There are many tools to help you do this, including apps and websites and plain old pen and paper. In fact, as part of FICARE, daily sheets have been developed to help parents keep their own records.
We are also talking, however, about paying close attention to all the amazing skills that your baby is acquiring, and documenting and celebrating each one. You will find that many NICU nurses, in addition to being wonderful caregivers, are also great at helping you make mementoes and mark these special moments.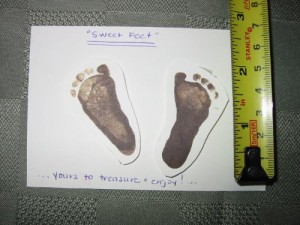 Why is this so important?
When babies are born early, parents often go through complex feelings of grief. They find joy with their baby but also can feel sadness about all the moments of pregnancy and childbirth that were taken from them. Parents who expected a full-term baby, who were anticipating cutting the cord at the delivery, who had hoped for a natural childbirth, or who had other dreams of becoming parents go unfulfilled, can sometimes feel trapped by these sad feelings.
One of the most powerful things you can do to help yourself with these feelings is to find other milestones to celebrate. You may not be able to replace or replicate all of the experiences you missed, but you will find others very worth cherishing.
When your baby is first born, and you take a picture with something in the incubator as a size reference (like a wedding ring around an arm or a stuffed animal close by), that will become a memento you will be so glad you have. It will become a testament to how tiny your baby was and how far he or she has come.
When you first have the opportunity to hold your baby skin-to-skin, that is something you will want to remember.
When babies learn to breathe on their own, that is a feat worth recording.
And these are just a few suggestions … You will find that your baby experiences so much during his or her NICU stay, and while you may think at the time you'll remember it all, graduate NICU parents tell us so much of it fades away.
You can also incorporate journalling and scrapbooking into your record-keeping; both are creative and therapeutic activities that can help you reduce stress while making beautiful keepsakes of your time in the NICU.